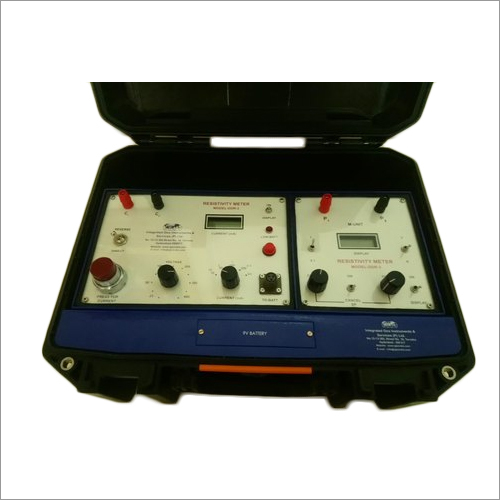 Product Specifications
Electricity

DDR 3 Resistivity Meter

Plastic

Black

Industrial
Product Description
The DDR 3 Resistivity Meter is a specialized version of IGIS resistivity meters designed for use in resistivity surveys upto about 150m depth under geophysical favourable field conditions. It utilizes rechargeable batteries as power source to energize the ground thus eliminating the necessity of using the relatively expensive dry cells. The equipment consists of two separate comportments-one for reading the current (G.Unit) and the other for directly reading the resistance/the potential (P-Unit), both housed in a single box. The equipment, powered by a 24V rechargeable battery can send highly stabilized currents upto 200mA and read the resulting potential with a 100 micro volts resolution or ground resistance directly with 50 micro ohms resolution. Housed in sturdy box fixed in a briefcase, the instrument provides highly reliable digital outputs of ground resistance during field surveys and finds extensive use in ground water exploration, dam site investigation, delineation of geological structural features and in several other related problems.
Applications : Groundwater Exploration ,Bed Rock Investigations, Delineation of Geological Structures, Resistivity Sounding , Sand and Gravel Deposit Identification Mineral Investigations Geophysical Field Training.
Enter Buying Requirement Details
Other Products in 'Geophysical Instruments' category
INTEGRATED GEO INSTRUMENTS & SERVICES(P) LTD.
Door No. 12-13-382, Street-18, Tarnaka, Secunderabad - 500017, Telangana, India